The Open Gallery is a continuous international project of contemporary art – an open-air gallery that goes beyond the perception of the "white cube" gallery, turning the post-Soviet, formerly closed industrial yard into a unique and open art gallery.
This year, the gallery will be complemented by ten more new works in the usual New Town area and one at the Neris embankment. True, due to the pandemic, a tribute was given only to the works of Lithuanian artists:
Agnė Stašinskaitė: "A Look at Paradise"
Julia Panova: "Keep your flag"
Povilas Kupčinskas (Povas on Fire): "Crow's Meeting"
Linas Kaziulionis (kart7): "Information Bubble"
Evelina Jaskelevičiūtė: "Transformation"
Kristina Asinavičiūtė (Kristina Asinus): "Night Trips"
Martynas Ivinskas: "Citizen"
Agnė Juršytė: "To be yourself"
Pijus Čeikauskas (Pijinas): "Smoky"
Domas Verikas: visual installation "Tree Lover"
Currently, the Open Gallery is decorated with 41 works by Lithuanian and foreign artists, such as Sokar Uno (Germany), Telmo & amp; Miel (Netherlands), Perkup, David Leitner (Austria), Dirty Elmo (Sweden) and others.
The gallery is open to everyone and always, so even when quarantine entertainment is currently limited to the home, an open-air outdoor gallery invites you to take a short walk and get some inspiration.
Some new works that have already fallen on the walls of the gallery:

Agnė Stašinskaitė "A glimpse of Paradise"
The illustration is inspired by the words of John Mecca that everyone, even without knowing it, somewhere deep within themselves, may be carrying part of the image of paradise in secret. (From the movie As I was moving ahead occasionally I saw brief glimpses of beauty).
"In interpreting these words, I decided to revive, resurrect, and transplant the Tree of Paradise that Mecca had planted in New York's Soho Quarter. But he was cut off. Here the tree becomes a bridge between Earth and Paradise, a symbol of rebirth, of free creation. "

Linas Kaziulionis (kart7) "Information bubble"
In today's world, we face a huge flow of information, making it extremely difficult for anyone to deal with it. We can say that information is a very good and useful thing, but from another angle, a person seems to "close" his information bubble and can no longer process it correctly or find reliable information (fake news), which has recently become a very big problem in modern digital media. in the world.
"In the work, I very clearly depict the formed human information bubble, i.e. a woman blows soap bubbles and" inflates "them on her head, which becomes a filter that filters the coming information. The filter often does not work as it should and the correct information does not reach the depicted woman. It seems to reflect a problem we all face. "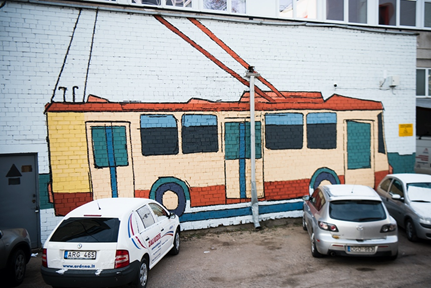 Kristina Asinavičiūtė (Kristina Asinus) "Night travelling"
"Summer nights are a source of incredible inspiration and complete freedom for me personally. It's a long-awaited time when you can finally get lost in the world without fear of freezing your fingers or catching an unfortunate flu. There is a wonderful opportunity to finally freely watch the stars again, to feel how the warm wind gently caresses the skin, shakes the hair and stuns the mind with dreams. It is an incredible joy to be alive. We live in our humble simplicity, without the glorious plans we live in, and we hope that only their implementation will bring us the much-anticipated happiness. Not at Ferrari lies the essence of freedom. Not in expensive winter fur coats. And in a simple routine: a simple trip on a beloved trolleybus at night, trying to keep his balance as he flies and eagerly awaits his resurgence.